Sym Motorcycles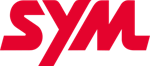 Founded: 1954
Age: 68 years
Country: Taiwan
Website: www.sym-global.com
Total series: 53
Active series: 19
Discontinued series: 34
Founded in 1954 in Taiwan, Sanyang Motor Co., Ltd. sells its products under the brand name SYM. The company started as Sanyang Electrics and initially produced dynamo lights for bicycles. After being restructured in 1961 the company began to work together with Honda and later Hyundai. It porduces ATV, motorcycles and scooters with the SYM logo as well as several models of automobiles and mini-trucks for the Hundai brand.
Active series
Discontinued series
Brand timeline
1954
Company founded to produce dynamos for bicycles
1961
Agreement with honda to locally assemble motorcycles
1969
start of assembly of Honda cars (N600, TN360)
2002
Grey market SYM scooters appear in US
2003
Establishing of an afficial importer in the US
2005
Range of new scooters GTS 125 cc, 200 cc and 250 cc
2006
Opening new plant in Japan
Carter Brothers Mfg. Co. Inc. acquire exclusive distribution rights for US
2010
Arson destroys about 3000 unsold scooters in warehouse
2015
Renaming Sanyang Industry to Sanyang Motor Co. Ltd.