Ccm Motorcycles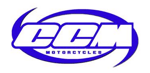 Founded: 1971
Age: 51 years
Country: England
Website: www.ccm-motorcycles.com
Total series: 26
Active series: 6
Discontinued series: 20
The CCM Motorcycle Company is one of Britain's most esteemed motorcycle manufacturers. The company is noted for its award winning motorbike designs and unique technological embellishments. The company has been victorious in races since 1973 and is continuing to make its mark in the world of motorcycles. The bikes manufactured in the CCM manufacturing house are the result of continuous research and development and offer the motorcyclist the comfort and functionality of innovative and effective bike designs. The CCM race bikes equip the rider with maximum control over the bike and give excellent performance.
Active series
Discontinued series
Brand timeline
1971
BSA Competition Department is disbanded
CCM is founded by Alan Clews after buying available parts from BSA
1973
1st British Side-Car trials championship, Jack Matthews
1975
1st 750 cc A.M.C.A. championship, Mick Eatough
1st A.M.C.A. superclass championship, Cliff Barton
1976
1st British Moto-Cross support championship, Dave Nicol
Eddie Kidds jumps over 13 double decker buses.
1998
Majority share in company is sold to Peter Swift + Co
2003
Lara Croft rides a CCM 644 in Tomb Raider
2004
Company ceases operations due to debts incurred by management
Alan Clews buys back company from liquidators BDO
2010
First ACU British Indoor Motocross Championship, Tom Church